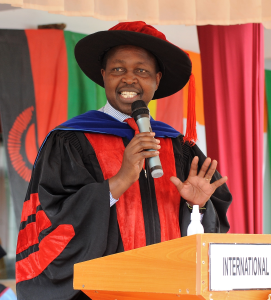 The International Leadership University enrolled its first students in 1981. Since then we've been able to graduate many students from various countries of Africa and beyond. Many of our students are serving as leaders in churches, business, government and other various spheres of society. Our vision is to be a Christian university that will raise leaders of integrity for Africa and the world. We do this through our mission of educating and training Christ-like servant leaders who are able to lead a holistic societal transformation.
We have the highest standards for our academic programmes which are currently accredited by the commission for university education. We are also part of the International Consortium of International
Leadership Universities and other universities with which we benchmark to ensure we always maintain high standards. We are putting up a research centre in our Kitengela campus because we want to be at the forefront of generating new knowledge. We will also have a conference centre that will serve as a centre for our postgraduate students. Our health centre, chapel and sports stadium will be avenues for integrating and partnering with the community and will help in improving the conditions of the community members.
We are committed to raising leaders who are transformative and are going to make an impact in society. When you look at our alumni, where they are serving, the difference they are making, you want to join that league of people who are truly making a difference in Africa and beyond. We believe that our society and nation can change if everyone influences their immediate community and society in general. Join us through giving a gift or become a partner with us in our remarkable journey as we build towards a bigger future that empowers a new generation of moral and ethical leaders.
Dr. Tim Kiruhi,
Vice-Chancellor,